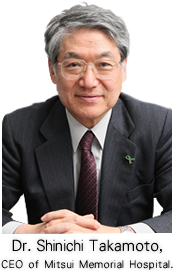 The roots of Mitsui Memorial Hospital go back to 1906, when Mitsui Hachiroemon, a representative of the Mitsui family, at his own expense set up the Mitsui Charity Hospital for poor people unable to afford medical treatment. The hospital opened in March 1909. Now, after over 100 years of history, without any alteration in the principles upon which the hospital was first set up, we are still able, thanks to the support of the Mitsui Group, to devote our energies to medical care.
The present-day environment in which medicine is practiced is undergoing sudden major changes, and medical staff are now finding it difficult to cope unless the work is performed as a team effort. To begin with, the chief role now is played by the patient, and if we medical staff reflect on the fact that we are merely assisting the patient's own healing abilities, "team medicine" is not an activity engaged in only by the medical professionals, but must include the participation of the patient as well. This team, then, is not simply a superficial concept, but must involve mutual reliance and the willingness to overcome any shortcomings that may show themselves.
Because the patient is on the same team, it is necessary to entrust that person with some suitable responsibility; then, when a course of treatment proves to be effective, all members of the team should certainly be able to participate in the joy of that success.
As advances are achieved in the field of medicine, in order that they may contribute to a patient's own vital energy, I believe that it is necessary for a closer personal relationship and a stronger mutual trust to be developed between doctor and patient, and that a reliable partnership at a fundamental level is essential for the most far-reaching treatment to be achieved.
We at Mitsui Memorial Hospital hope that, both for the sake of each patient and together with each patient, we may all be part of a lasting partnership.